February 10th, 2016
Star Storytellers Set for Next Chapter of Cardiff Children's Literature Festival
A programme of over 50 exciting events featuring a literary line-up including multi-best-selling children's favourite Jacqueline Wilson will be welcomed at this year's fourth Cardiff Children's Literature Festival.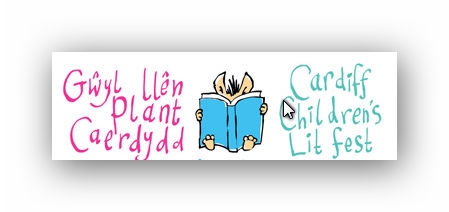 The popular family event will return to the capital from 16-24 April 2016 featuring local and national, English and Welsh speaking authors and illustrators. Events will take place at iconic venues across the city centre including City Hall, Cardiff Central Library, Cardiff Castle and Reardon Smith Theatre, National Museum Cardiff.
As this year's festival coincides with the Centenary of Roald Dahl, one of the most famous children's writers of all time, celebrations will include a host of themed events such as 'Word Wizards Guide to Roald Dahl,' craft sessions, and a free, jump-squifflingly fun treasure hunt across the city centre.
More free activities include Storytime sessions held in the Children's Department of John Lewis, where throughout the festival weekends children can enjoy listening to stories and even meet some very special guests including Maisy Mouse, Kipper and Walker Bear.
The festival's biggest line-up yet also includes Bardd Plant Cymru (Welsh Children's Poet Laureate) Anni Llŷn, CBBC's Sam and Mark and CBeebies' Jess French and Cerrie Burnell, Kristina Stephenson and Kes Gray. Once again the festival hosts a week of free sessions for school children, which includes Tony Bradman on Shakespeare, Simon James, Jon Mayhew, and the Welsh Poets from Stomp Fach.
There are also events for adults, which include Writing for Children with Barry Cunningham the man who discovered J.K . Rowling and author Jon Mayhew, literary discussions with Catherine Butler and the chance to hear from the publisher and contributors to the forthcoming University of Wales Press publication Roald Dahl: Wales of the Unexpected.
All of these events, aimed at young people and grown-ups, aim to inspire, nurture and encourage a life-long love of reading and books.
The festival has continued to grow over the years and will now run across two weekends with the free school sessions, supported by the John Lewis; Bringing Skills to Life project, being held during that week.
Cabinet Member for Community Development, Co-operatives and Social Enterprise, Cllr Peter Bradbury said: "Since the first Cardiff Children's Literature Festival in 2013, over 5000 school children have attended free sessions with a further 5000 book lovers – from toddlers to teens – attending public sessions across the festival. The 2016 festival will be even more special as we celebrate the centenary of Roald Dahl, the world's number one storyteller."
Leading up to the Festival, primary school children from across Cardiff and the surrounding areas will take part in Roald Dahl Themed workshops in storyboarding, scriptwriting, poetry and prose. Workshops are supported by Literature Wales and will be led by six writers and illustrators from Wales: Dan Anthony, Francesca Kay, Mike Church, Mab Jones, Huw Aaron and Casia Wiliam.
The work produced will be celebrated in a free exhibition supported by John Lewis and Genesis Marketing at Cardiff Central Library and The Place to Eat Restaurant on the third floor of John Lewis from 1 April – 24 April 2016.
Lleucu Siencyn, Chief Executive of Literature Wales said: "Literature Wales is delighted to support the Cardiff Children's Literature Festival's outreach programme for the fourth consecutive year. At these workshops high-profile Welsh writers will share their skills and their passion for words with children all over the capital, enabling them to engage with literature in all its forms and develop the skills they need to create their own stories."
The festival aims to create lifelong readers with tickets currently on sale via Ticketline UK (02920 230 130 or www.ticketlineuk.com ) and www.cardiff-events.com
See www.facebook.com/CDFKidsLitFest (English) or www.facebook.com/GwylLLenPlant or follow @CDFKidsLitFest or @GwylLlenPlant on Twitter for more information.