Tuesday, May 19th, 2009
Our mid month update is packed with news from the book world. Read on to hear about some exclusive 'pre-publication books' that we have managed to lay our hands on before anyone else. Also, check out the books that meant or still mean so much to the five Children's Laureates, past and present, as well lots of exciting free to enter prize draws.
Be spellbound by some of the hottest new children's books before they are published

    

9+ A tense and pacy second adventure in this magical dystopian fantasy series. .

 

    

11 + The second explosive novel in the series sees the Boys go into action to help stop Hitler invading Britain


    

9+ 'Treasure Island meets The Beach'. A cracking adventure about what happens when pirates storm the exotic island 

 
 
 
 
 

    

9+ The much-awaited sequel to Toby Alone explores heroism and friendship his miniature world.

 

    

9+ A murder-mystery comedy of errors about a vampire 'support group'.

 
Don't miss this Month's 'best bits'!
And talking of 'best bits' these are the books that are our personal favourites this month that we feel you really shouldn't miss
Puppet Master and The Silver Blade, both historical novels of the highest order and Lifegame and The Resistance, both of which are a frightening reminder of how power, in the wrong hands can become a frightening weapon of destruction. 10+ year olds will enjoy all of these. It's wonderful too, to see the return of Pongwiffy, a witch of bad habits to be enjoyed by a new generation of young readers of 7+ and for smaller boys and girls the wonderful Littlest Dinosaur and Lulu's Clothes.
And, talking of favourite books:

The position of Children's Laureate is nearly 10 years old and the first five holders of this illustrious post – Quentin Blake, Anne Fine, Michael Morpurgo, Jacqueline Wilson and the current Michael Rosen – have each chosen their 7 all-time favourite children's books. So, why not visit our special section to find out which books fired the imagination of some of the top children's writers of today, first as children and later as adults.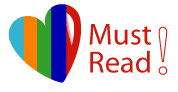 Just as our Children's Laureate feature guides you to some timeless classics, did you know we have a whole section on the site dedicated to books that we think will grow old gracefully and will affect a new generation as powerfully as the generation before? Simply Essential Reading. Updated regularly and conveniently categorized by age why not find out more today?…
We hope you and your children enjoy the books we're recommending at least half as much as we've enjoyed selecting them. And don't forget we also love hearing from you so do let us have any suggestions you have to make our website even better and last but by no means least a reminder to enter our free monthly prize draws to have the chance to win some exclusive book goodies.
Happy reading for you and your kids from the team at Lovereading4kids!