Thursday, February 17th, 2011
Christmas is long gone and so are the January sales but we are the gift that keeps on giving! This month on the site, your kids can have the chance to win an exclusive range of prizes in our competitions section and as if that weren't enough, we have our usual great ideas and guidance to help you help your children choose their next read…
Some February features not to miss…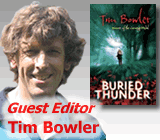 One of the Lovereading4kids team was lucky enough to meet the wonderful Tim Bowler, our Guest Editor this month recently at a dinner to launch his latest book Buried Thunder. They decided you couldn't wish to meet a more warm, welcoming and funny guy – but how does someone so lovely end up writing some of the creepiest and most psychological page-turning thrillers and all from his shed in a field in Devon?
His books are guaranteed to get even the most reticent reader hooked. Why not try the exclusive extract on our site for his latest Buried Thunder on any child aged 12+ and you'll see what we mean.
| | |
| --- | --- |
| 9+ The author, Pseudonymous Bosch, advises against reading any of his books but rest assured kids are missing a treat if they don't. | 9+ The sequel to Paradise Barn. It's six months later, and the children find themselves in the midst of another intriguing set of events. |
| 9+ Explosive and compelling time travel at its best. Will Josh and Ixchel find their way home again – or will they get stuck in the past? | 11+ Utterly mesmerizing and original. Narrated by a 10 year old boy whose family has quite frankly gone AWOL since one of his twin sisters was blown up by a terrorist bomb. |
| 11+ From the author of the Percy Jackson novels comes a terrific series set in Ancient Egypt rather than in Ancient Greece. | 14+ Just how far will Jody's obsession with rock star Jackson Gatlin take her? A rip roaring story about the perils of fame and the reality of all that glamour. |
| 14+ Fourth book in the mind-blowing Gone series. There are 100 copies of the first in the series – GONE – being given away to introduce new readers to this awesome series… | 14+ Brimming with the intrigue and suspense that made John Grisham a number one international bestseller and the undisputed master of the legal thriller. His first for teens. |
The much loved Gruffalo is donning a big Red Nose and getting behind Comic Relief in 2011. A specially produced activity book is being produced priced at £2.99, of which at least £2 will go straight to the charity. There will be lots of Gruffalo based activities in the lead-up to the big day, so come to the site to find out how you and your children can get involved in Green Wart … sorry, we mean "Red Nose" day with the Gruffalo! Why not get your school to host a Gruffalo food party for example? Click here to find out more.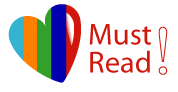 No time to ponder your selection but need to order a book right away, then don't worry, help is at hand in our Bookshelf-Essentials section… In it you'll find some 'must reads' – as with all our titles they're hand-picked – all conveniently separated into age-range – so that your child's next adventure is only a few clicks away. Find out more today.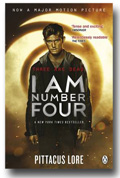 Kids love movies. Well, we all do. But, why not get your kids to be the directors of their own movies by reading the books first? Reading encourages them to use their imagination and create the world and characters for themselves. Later this month there is a terrific teen novel scheduled for release on the silver screen. Why not give your teenager a chance to say, "the book's better!" by getting the book for him or her.
I am Number Four due to be released 23 February
John Smith looks like a normal teenager. However, he has a secret. A secret that means he can't stay in one place for long. John used to be one of nine. Three have been killed. John is number four. After finally finding a place where he fits in and a girl he likes (who has secrets of her own), he must stand and face his demons. Literally. The film looks awesome, we have a trailer on our website so just imagine how great the book is!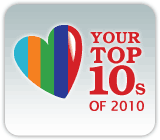 Finally, have you taken a peek at 'Your top 10 of 2010'? Broken down by age range it's well worth checking out to see what your kids may have missed last year.
There are some real crackers but you better be quick as the list won't be up forever.