Friday, September 23rd, 2011
Now you've got your children back to school, why not take a few minutes to choose some great books that will have them rushing through their homework so they can read a few more pages before lights out. It could even be our MEGA Book of the Month this month, a book that will touch the heart of readers of all ages from Booker Prize winner Roddy Doyle – A Greyhound of a Girl. Read on to find out more…

One of the best bits of our jobs is getting to read books from first time authors. The stories always jump of the page. This month we have 8 stunning debuts for childrens of all ages.
Visit our Debut books category to find out more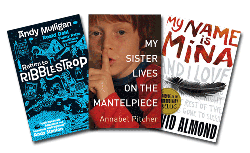 The eagerly awaited shortlist for the Guardian Award for Children's Literature is announced in October and we're glad we don't have to choose between them! With all titles featured on the site, the 8 contenders are a collection of everything that is great in children's books for kids aged 7-17.
Our favourites are the stunningly original My Name is Mina by David Almond, the side splitting Return to Ribblestrop by Andy Mulligan and the mesmerising My Sister Lives on the Mantelpiece by Annabel Pitcher.
Why not take a peek at the hopefuls in our Book Awards section and find your favourite!

There is nothing like a funny book to captivate a child's interest so don't miss the books selected for the unique Roald Dahl Funny Prize. There are two categories; one for 6 and under and the for 7-14 year olds. Every title on the shortlist is terrific and deservedly takes its place there so prepare yourself for some rip-roaring belly-laughs, sniggers and chortles. Have a laugh on us today…
News of two Children's book festivals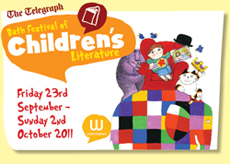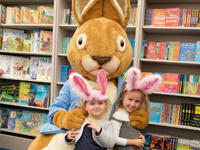 If you live, or find yourself, in South West England then do try to make time to go with your children to two wonderful book festivals. 23 September – 2 October is The Bath Festival of Children's Literature and 7 – 16 October is Book It! at the Cheltenham Literature Festival. Both are packed with exciting author and book events.
Find out more by visiting the book festival websites.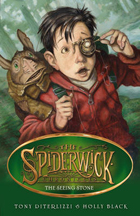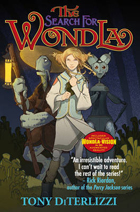 In Spiderwick Estate, twins Simon and Jared and their older sister Mallory discover a world of faeries and strange magical world, filled with surprises, bumps and bucket loads of adventure! These stories are suspenseful and scary (but not too scary) and ryeal page-turners, with children as young as 7 held spellbound to the final page. We have these new paperbacks, along with the illustrated hardback titles, in a special section. Find out more today…
Tony DiTerlizzi, co-author of the series, has also just released a new book, The Search for Wondla, which is a brilliant space-age alien adventure for kids aged 9+ – it's well worth a look so why not read the free opening extract on Lovereading4kids right now!

It's our favourite and it looks like it's your favourite too. Our 'Author Favourites' section lists titles chosen by great authors as their personal favourite books. This month, we list the favourites of three iconic children's authors: Philip Pullman, Michael Morpurgo and Michael Rosen. Visit the page to see their choices!
We have had great feedback about our Early Readers section, which we are very happy about. It has loads of great fun books for you to share with your children and help build their confidence to read alone. With a hugely diverse selection, neither you nor the kids will ever get bored. What's more, the basket is getting even bigger with more new titles added this month, including the timeless Princess and the Pea. Click here and (literally) get started!
That's it for September – see you again in October when we are so looking forward to Halloween!
P.S. – If you are ever stuck for a book to read then try our age categorised 'Essentials' section – an addition this month is the delightful All About Alfie from Shirley Hughes…
P.P.S. – Our Back to School feature on the site will remain there for another couple of weeks so if you want guidance on useful reference books your kids might need then have a quick look now.