Wednesday, March 19th, 2014
Welcome to the Lovereading4kids mid-March update. In this email we have the pick of upcoming April titles in our Exclusive Pre-Publication category, lots of exciting new books
and series to get your children loving books and, you can win a £50 Lovereading4kids voucher if you can identify the opening line of a book…

Knowing your opening lines could win you a £50 book voucher
Growing up there are lines in a book that will jump out, transforming your imagination and taking you on an incredible adventure! We have therefore picked one of our favourite lines from a famous children's book and we want you to tell us which one it is.
"The moment where you doubt you can fly, you cease for ever being able to do it"
To have a chance of winning a £50 Lovereading4Kids voucher, simply 'Like' us on our Facebook page and comment on our wall telling us the name of the book from the quote above. All the correct entries will be popped into a virtual hat, on 31 March 2014, and a winner will be chosen at random by 4 April. Good Luck.
As ever we have a plethora of extracts from great books for you to sneak a peak at before they are released and you can stay ahead of the game. We are all very excited about:
The Jolley Rogers and the Ghostly Galleon (6+) – by Jonny Duddle – swashbuckling, supernatural booty-hunting gallivanting in ghoulish waters. Also if you have a teenage book lover why not sign them up to our Teen/Young Adult Reader Review Panel and they could be reading and reviewing books before they are published for Lovereading4kids and Lovereading?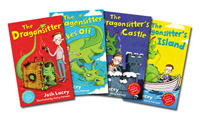 Hilariously funny, entirely original and jam packed with top tips for anyone thinking of looking after somebody's dragon, this is one of those series' that's going to be a favourite for generations to come. We love them and we think your kids will too. The 4th one is just out and we have some terrific kids reader reviews too. See them all here.


Michael Morpurgo believes: "It's only by loving stories ourselves and by passing on that love that we create readers". But, for adults with dyslexia insecurity about reading to their children can be heart-breaking. That's why he's collaborated, with the number one publisher of dyslexia friendly books, Barrington Stoke, to produce a series of picture books under the Red Squirrel imprint that grown-ups with dyslexia can enjoy with children and help them to love reading. The special easy-read font helps youngsters follow the text and recognize letter shapes. Take a look:
All I Said Was by Michael Morpurgo – Accessible and beautifully illustrated story about flight and the love of reading.
Itch Scritch Scratch by Eleanor Updale – Laugh-out-loud fun about the all too common problem of … (ssshhh) … NITS!
Phew 7+ fans of this exciting series, following the time travelling adventures of Tom and his Egyptian cat Isis as they race through the centuries hunting magic amulets, don't have to wait any longer as a load of new titles have just come out. See the shelf below.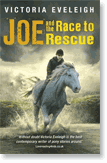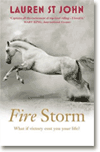 For all horse-crazy girls and boys out there, we have a section entirely dedicated to great stories and books for lovers of our equine friends.
They shouldn't miss Fire Storm by Lauren St. John (9+), last in The One Dollar Horse trilogy and Joe and the Race to Rescue: A Boy and his Horses (7+, 9+) by Victoria Eveleigh. Find out more by visiting the website today and enter the Free Prize Draws to win signed copies.

Together with the unparalleled Walker Books, we bring you some of the best and most beautifully illustrated picture books to share with your youngsters. Introducing concepts and ideas and instilling a love of stories at a young age, we love a good picture book! We've refreshed our Picture Book Party category for 2014 and it's bursting with goodies. Come and see what's new.

Lucy Cousins' fantastic Maisy has sold over 31 million storybooks worldwide, helping little people learn about music, gardens, counting, colours, reading, swimming, singing and so much more. Her latest adventure is an animal-activated science story, which you'll love to read and they'll love to listen to.
Maisy's First World of Animals: A Maisy First Science Book by Lucy Cousins – Interactive, informative, inspiring … in our top-ten!
Taking a leaf out of our grown up site we have launched a new category called 'If You Like You'll love' (no prizes for guessing what it does) but definitely the place to go if your child loves a big established author or character and would love to read something in a similar vein.
See below for this months selections and come back whenever you need more inspiration.
If you like John Green, you'll loveGrasshopper Jungle
Andrew Smith
A sexy, sharp-eyed, funny and totally irreverent view of the world as told by sixteen year Austin.
If you like Tom Gates, you'll love


Wendy Quill Tries toGrow a Pet
Wendy tells stories about herself and her friends that are hilarious, wacky and different..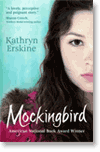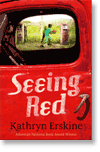 150Kathryn Erskine is a truly unique writer, unafraid to tackle the big issues like loss and autism, prejudice and fear, yet always communicating the great hope that underlies these difficult truths.
Two of her great books are Seeing Red, a thought-provoking historical novel tackling the important themes of race and responsibility in small-town America. And Mockingbird – a definitively moving story of loss, recovery and self-discovery … told from a completely different perspective.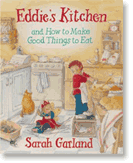 We love Sarah Garland's fantastic Eddie' series for 3+ and 5+ readers. Beautifully illustrated and cleverly told stories about the lively adventures of the eponymous Eddie, also teach kids the wonders of growing things in the garden, using tools and – with her latest, Eddie 's Kitchen: How to Cook Good Things to Eat – cooking! See the whole series here.
And while we are on the subject of activities we have dusted off and dried out our Out and About category so given the Easter holidays are not too far away, have a look around for lots of books featuring fun and educational things to do outside now the weather is getting a little better.
Our WW1 category is becoming increasingly popular as parents and schools discover this easy to access library of highly relevant books.
This month we have added 3 new titles, see below, which all bring new views on WW1 to help young people today better understand this tragic conflict.
So that is it for March. We will be back in April with more spectacular Spring reads.
Happy Reading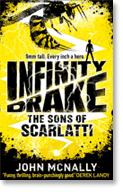 P.S. If you have children who love books jam packed with lots of action and adventure then DO NOT MISS our MEGA Debut of the Month Infinity Drake: the Sons of Scarlattiby John McNally. Our reader review panel raved over it.
P.P.S. In case you missed it last week the ebullient Tony Robinson won his second Blue Peter Book Award for Weird World of Wonders: World War II (7+) and Katherine Rundell triumphed in the Best Story category with her exciting and tender adventure called Rooftoppers (9+). See all the shortlist in our special Blue Peter category.
P.P.P.S. Our Free Prize Draw section is crammed with chances of winning brilliant booky prizes that money can't buy – don't forget to enter before the month end.