Tuesday, April 22nd, 2014
Hoo's Kids Book Fest, The Luton Hoo Walled Garden – Sunday 11 May 2014
FREE PRIZE DRAW: Win an All Day Family Pass worth £92 to Hoo's Kids Book Fest – click here to enter.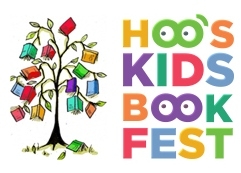 The five acre Luton Hoo Walled Garden is nearly 250 years old and is located on the historic, family-owned Luton Hoo Estate. It was designed by the famous landscape architect Lancelot "Capability" Brown for the 3rd Earl of Bute.  On 11 May Hoo's Kids Book Fest sees a host of great children's authors gathering here to entertain and amuse.
Highlights include 2014 World Book Day illustrator Alex T. Smith and fantastic author Caryl Hart telling silly stories and drawing live from their joint series, Foxy Tales, which is bursting with ridiculous scrapes and slapstick humour. Come and meet bestselling author Angie Sage as she talks about the Araminta Spook series. Calling all Beast Quest fans! Help the good wizard Aduro to free the beasts from Malvel's evil spell. Take part in a Beast Quest Tournament… Get a sneak peek of Adam Blade's new series, Sea Quest! Christopher Lloyd will bring his giant What on Earth? Wallbook – aimed at making Big History as accessible as possible to the widest possible age range.
Join Clara Vulliamy as she reads and draws from Dixie O'Day in The Fast Lane, introduces her characters Dixie and Percy and shows the japes they get up to at the wheel of their red sports car. Clementine Beavauis author of the Sesame Seade series will be entertaining children of eight and upwards with her fantastic series about a Sleuth on Skates!  Also attending are Catherine Johnson, author of A Nest of Vipers, Piers Torday, creator of The Last Wild, Robert Muchamore, the internationally bestselling author of CHERUB, and Sophie McKenzie, author of the hugely popular Missing sequence.
Make sure that you join Gary Northfield for his comic creation workshops, where you can learn some top-secret, comic-creating tips whilst producing a comic strip of your own. Also Roald Dahl Funny Prize winner Jim Smith, creator of the hilarious Barry Loser series, unleashes how to get the last laugh in an extra 'keel' hour of stories, belly laughs and burps. Jim will teach you how to draw Barry and his mates. The Roald Dahl Museum crew invites you to join in with their Dirty Beasts and Revolting Rhymes storytelling sessions. This is your chance to star as a pig in Roald Dahl's version of the The Three Little Pigs or help with Tummy Beast sound effects!
For more information visit www.hoosbookfest.com and to book tickets go to http://www.wegottickets.com/festivals/f/7273 .