Friday, August 15th, 2014

Lovereading4kids are delighted to announce that we are festival partners at The Telegraph Children's Bath Literature Festival, Friday 26 September – Sunday 5 October 2014. We are proud to be sponsoring the Meet Horrid Henry event onSaturday 27 September at 3.45 – 4.30pm at the Guildhall.

Over 5s can join storyteller Liz Fost in to hear tales of some of Henry's 'horrible' adventures. Test your knowledge with a 'horrible' quiz and even meet Henry himself!   The Telegraph Bath Children's Literature Festival 2014 Award-winning children's author David Almond, has once again curated an unmissable programme that brings the greatest children's authors, illustrators and characters to Bath.
Young readers will be delighted by the All Time Favourites strand which brings them their favourite characters including Horrid Henry, Miffy, Peppa Pig, Ruby Redfort and the very lovable Elmer and Kipper, who are celebrating their 25th birthdays. Michael Morpurgo joins a cappella trioin a rare performance of Private Peaceful: The Concert and Simon Mayo introduces the third book in the Itch series. Liz Pichon, Lauren Child, Michael Rosen, Jim Smith and Philip Ardagh will entertain and amuse all age groups.
Lego returns with a brick-tastic Star Wars inspired event; Henry Winkler shows children that everyone can succeed in life and Minecraft experts come to share top tips and tricks.   Adults and teenagers alike will be inspired by David Almond, Mal Peet, Melvin Burgess and Cornelia Funke; Benjamin Zephaniah comes to town with Terror Kid, his first novel in 7 years, and hilarious author Andy Stanton hosts the Big, Big Bath Book Quiz. As always there is a vast selection of workshops to really get stuck into; covering everything from comic strip creation and illustration, to story writing, storytelling and spoken word poetry. Keep a top secret diary with Emer Stamp and even learn how to survive a plane crash in the jungle. Join us as we party, laugh, learn and debate our way through children's literature.
We know you will find plenty to excite you by visiting http://bathfestivals.org.uk/childrens-literature/view-the-brochure/ so take a look and book your tickets early to avoid disappointment. Lovereading4kids members can claim a special 10% discount on tickets for Horrid Henry by entering the discount code LOVEBATH on the booking page.

HENLEY CHILDREN'S LITERARY FESTIVAL 29 September – 5 October
Henley Children's Literary Festival has an exciting new programme which has been extended this year, from 6 to 26 events: "From naughty pets to a prince's potty, bear hunts to horrible science, this year's line-up will fire all imaginations from toddlers through to their grandparents.

We will be hosting a celebration of reading and books.  By offering singing and storytelling, drawing and writing workshops we aim to appeal to every child. It is all about learning whilst having fun.  Even children who think they don't like reading will enjoy seeing their favourite characters and books – such as Maisy Mouse and Hugless Douglas – come to life around the town."
The week-long programme of events (29 September – 5 October) will be ticketed and held at the River & Rowing Museum and Christ Church Centre, as well as free events taking place in a Festival Hub in Henley's town square throughout the weekend. Specific events for schools focus on subjects including First World War poetry and Shakespeare.
"We're going on a bear hunt, we're going to catch a big one…" Lovereading4kids has teamed up with Henley Children's Literary Festival to offer the chance to win two tickets to a bear hunt on Sunday 5 October, click here to enter our prize draw. Adapted from Michael Rosen's prize-winning, ever-popular adventure, storyteller Middleton Mann helps us celebrate the 25th anniversary of this beloved book at a special Kenton Theatre event. Why not bring your own bear or even dress up as one? For further information and to book tickets visit http://henleyliteraryfestival.co.uk/childrens/.
Wimbledon Book Fest 3-12 October 2014

The eighth annual Wimbledon BookFest is back this autumn with Children's events at the heart of the programme: art workshops, storytelling with CBeebies presenter Cerrie Burnell and the ever popular Wombles sing-along. Caroline Lawrence will be teaching children How to Write a Great Story.
Events for schools include Jacqueline Wilson, Benjamin Zephaniah, Michael Rosen and a special 10 year anniversary event of the Chronicles of Ancient Darkness Series with Wimbledon writer and Patron, Michelle Paver. Children visiting might find something unexpected on Wimbledon Common – as well as our traditional Wombles-themed events, The Gruffalo will be paying a visit on 3 and 4 October." To book tickets visit www.wimbledonbookfest.org
CHELTENHAM FESTIVAL  3-12 October 2014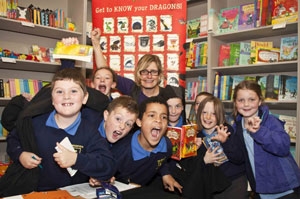 BOOK IT! FOR SCHOOLS PROGRAMME
Book It! for Schools is all about encouraging young minds to develop a love for reading and writing, and there will be plenty of activities to excite and enthuse pupils attending the 2014 programme. From the power of storytelling to the magic of seeing drawing live on stage, the Book It! for Schools aims to get children involved in literature and appreciate reading for pleasure.
Visit cheltenhamfestivals.com/education/take-part/book-it-for-schools-2014/ for more information.