Friday, September 19th, 2014
Mid September already and with Summer holidays a fading memory why not choose a new exciting book or author for your child to get into this autumn? We can, hand on heart, say we have something for every age and taste, selected and reviewed by our editorial experts and for some, also reviewed by kids too. Click here to start exploring…
From tots to teens, we're giving them the chance to catch their next great book before it hits the shelves. This month it is particularly big as October is the mega month in which all publishers seem to publish what they think will be the big books of the autumn and Christmas. We love:
The Crocodile Under the Bed by Judith Kerr (3+) – A magical, uplifting "classic-to-be" from the creator of The Tiger Who Came to Tea. Five Children on the Western Front by Kate Saunders (9+) An incredible, heart-wrenching sequel to E. Nesbit's Five Children and It, set on the eve of the First World War. And A Little in Love by Susan E Fletcher (11+) – Eponine, Cosette and an inventive story of true love's journey that will leave you anything but 'Misérables'.

In its brand new 10th anniversary livery, Frank Cottrell Boyce's comic cautionary tale, Millions, about the value of money (as well as friendship, family, love and loss) is just as topical as ever. If you've read it, read it again! And if not, you're in for a treat. Top Children's author Marcus Sedgwick picked it as "one of the books I wish I'd written". 'Nuff said.

Something for everyone to try and win this month with book giveaways linked to Puffin Modern Classics, Diary of a Wimpy Kid, Clarice Bean, Harry Potter, Shirley Hughes and Phillip Reeve (so many). Just visit our Free Prize Draws category today to enter.

Jonny Duddle, creator of some hugely popular and immensely colourful picture books as well as The Jolley Rogers series, has turned his award-winning skills to the enviable task of illustrating brand new editions of the Harry Potter books.
Fans of the eponymous wizard will love them. PLUS! We're giving you the chance to win a set of the new books AND fabulous signed prints by the artist himself. Clickiamus here!

Last year, they celebrated 15 years at the forefront of accessible publishing for less confident readers. This year, Barrington Stoke the number one publisher of dyslexia friendly books have gone one step further by launching an initiative to involve readers to be Young Editors and to have a real say in the way publications are produced. It's also open to more able readers too and we think it's a cracking idea. So we've refreshed our Dyslexia Section specially!
Mairi Kidd of Barrington Stoke, said, 'We're all about getting kids into books and we don't believe it's a one-way street – young readers have loads of opinions, ideas and feedback to give. Visit the website www.barringtonstoke.co.uk/youngeditors to find out more.
Any 10 or 11+ horse mad reader should now be very excited as the final book in the OneDollar Horse trilogy by Lauren St John, Fire Storm, has just been published. This a thrilling rags-to-riches story of one girl and her dream is a must for equine enthusiasts!
If your child has ever dreamt of seeing by fairy light, riding a dragon, or thwarting a Minotaur then this series of books about adventures with fabled beasts is perfect. See the shelf below to find out more.
After 9 books the jaw-droppingly stupendous Skulduggery Pleasant series from Derek Landy has finished. But the good news is now you can go back to the beginning and read them all again – see our series shelf below.

Remember last year's big Christmas title, Oliver and the Seawigs, perfect for 8+ readers? Well, bestselling Philip Reeve and prize winning illustrator Sarah McIntyre's have created a space adventure with a difference
Astra, a young girl travelling to a new life in Nova Mundi, sets in motion a gigantic cake catastrophe. Called Cakes in Space it is an hilarious caper with wonderful illustrations to add to the story.
More than Footnotes! – My Big Barefoot Books


No, they're not books to pack in your billabong as you start a soul-searching sojourn in the Outback. 'Barefoot' books are simply brain-expandingly brilliant!
My Big Barefoot Book of Wonderful Words (5+) is a truly different way for youngsters to interact with words and concepts and its sister, the Barefoot Books World Atlas (5+, 7+) is the most visually stunning atlas that we have ever seen.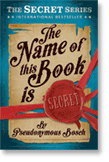 Unique, quirky, interactive, mysterious and a whole lot of fun the secretively sensational The Secret Series by Pseudonymous Bosch (no, we don't know who they really are either) have new jackets for a new generation to entice you to enter their crazy, coded world of clandestine cover-ups.
You can find The Name of This Book is Secret and If You're Reading This, it's too Late, here.
Unmissable Children's book festivals
There's much for young readers to enjoy at Henley's Children's Literary Festival; from Hugless Douglas to 50 Years of Chitty Chitty Bang Bang. Bring your own bear or even dress up as one to celebrate 25 years of Michael Rosen's We're Going On A Bear Hunt.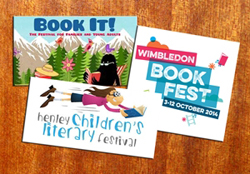 Venture on to Wimbledon Common this October and you may find not only Wombles but also a Gruffalo, guests of this year's Wimbledon Book Fest (3-12 October). Meanwhile over at the Cheltenham Festival school children of all ages can enjoy some of their favourite authors appearing at Book It! For Schools (3-12 October).

And that, book fans, is early autumn's harvest at Lovereading4kids. We love hearing from our young readers, so encourage them to tell us what they've been reading this month via Facebook or Twitter and we'll be back in October with more to keep them inspired!
And if your child loves reading books and writing about them why not join them up to our kids reader review panel and have the chance of reading books BEFORE they are published.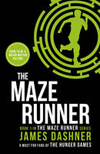 P.S. With Halloween coming at the end of October why not get in to the sprite early with our witchy MEGA book of the Month – and the first in a new series – Witchworld, written by Emma Fischel and illustrated by Chris Riddell.
P.P.S. Maze Runner by James Dashner, the cracking sci-fi post-apocalyptic adventure thriller for 11+ year olds that has already taken the US by storm and is set to achieve similar success globally when the film comes out in October. We think you should definitely read the book first!