Mid-January Email Update
A great book really is the best antidote for cold days indoors and video game dependence but why not kick start the upcoming kids' half term with a visit to Corfe Castle to hear Martin Maudsley open the Purbeck Literary Festival (16 February-1 March) with a free magical storytelling event.…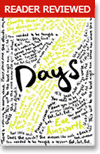 As always, we are delighted to be able to offer some exclusive downloadable extracts of leading new titles before they are published so you can whittle down your wish-lists to the cream of the crop! Ones we think are unmissable are: Seven Days by Eve Ainsworth (14+) – Maybe bullies and the people they target are both victims? A terrific debut novel from a unique perspective as the author says 'Bullying is a real, on-going issue. It takes many forms, and it's life-changing. There can also be more than one victim' and from one of our teen reader reviewers – 'I was hooked from the very first page and loved reading it'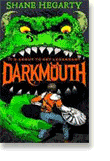 The Earth is Singing (14+) by Vanessa Curtis – hard-hitting and beautiful narrative of life lived in fear – so timely in the 70th anniversary year of the liberation of Auschwitz. Darkmouth by Shane Hegarty (9+) – Hilarious, heart-stopping terrifying fantasy with very real and resonant relationships. Great debut! Urban Outlaws Blackout (10+) by Peter Jay Black. – 2nd in the series (the first is called Urban Outlaws): High-tech, high-tension, high-octane teen crime hacking. A good one for even the most reluctant reader. I Was Here by Gayle Forman (14+) – A twisting journey of self-realisation, relationships and the burning pain of loss. From the bestselling author of If I Stay – last summer's YA blockbuster film. Other brilliant reads are

As part of our Fascinating Facts category, all frothy with fascinating factoid-filled fun for curious kids, we just love Lift-the-Flap General Knowledge (6+). It's intelligent, informative, interactive, inspiring… and a lot of fun! For example did you know your right lung is larger than your left or that the Earth is 4.6 billion years old? Find out more.

Late tweens and early teens and their parents love this series from Cathy Cassidy, now into its fifth title following the ups and downs of the five sisters' lives. Julia Eccleshare said of the series 'it has all the teenage humours of romance, jealousy, friendship and sorrow rage freely in this brilliantly observed story of contemporary life.' Members of our kids reader review panel loved it as well 'a fantastic read!' and 'the characters were great and it was really well written'. Discover more today.

Charlie Cook's Favourite Book by Julia Donaldson and Axel Scheffler (3+). With lots of reading jokes and stunning illustrations from the creator of The Gruffalo this is a book within a book, within a book and it has all the brilliance you'd expect from this author/illustrator combo and no poorer for being 10 years old! Our young reader reviewers loved it too. Liam, age 5 liked "all the rhymes and the ginormous spaceman's cake". Ellen, age 5 thought "all of the tales were really good especially the ghost story".Get reading today.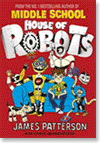 James Patterson, possibly best known for his adrenalin fuelled, page turning thrillers, is also an author who is passionate about getting children reading. So, he's turned his hand to writing truly accessible, enjoyable and engaging fiction for children aged 8+ of all abilities. His mix of story and illustrations in each of his series' is brilliant and we defy even the most reluctant reader not to love his books. And, the great thing is once hooked, there's a whole series to get stuck in to. Take a look at: House of Robots: Brobots – the first in a new series – "Funny and Original. Brilliant Story Telling. I loved this story so much" (Cajsa aged 9). Save Rafe, 6th in the Middle School series. Rafe needs to prove to himself and others he can cope with an outdoor camping exersise to not fall back a year at school. And I Funny, first in a new series, 2nd I Even Funnier is out now too and the third one is published in February.

First published in 2007 this award winning book has been re-released and it totally deserves to be on any 13+ reading list. The Absolutely True Diary of a Part-Time Indian by Sherman Alexie features poignant drawings as it chronicles contemporary adolescence as seen through the eyes of one Native American boy. It resonated with our teen reader reviewers too – 'heart-warming and funny' and 'a gripping tale for boys and girls alike'. Why not introduce your teens to this classic of the last decade?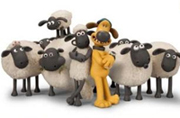 We all know that great books often inspire people to make great (and not-so-great!) movies. Sometimes it works the other way around and books can spring from celluloid. This month, ahead of the movie release on 6 Feb, look out for a whole host of hugely enjoyable Shaun the Sheep story books and activity books with fun things for kids to do centred on film production.

We're not drawing any lines under our hugely popular Picture Book Party section in 2015. On the contrary! It's set to grow with even more wonderful, illustrated stories to share with youngsters. We're very excited about this being the section where you'll find the books that will plant the love of reading in your young children's hearts with stunningly varied picture books that will live long in the memory. This month, we love: I am Henry Finch (5+) by Alexis Deacon and Viviane – Funny, inspirational, and profound tale about courage & making a difference.
Love is in the 'Share' – Valentine's Gifts from Little Loved-ones


You may be a Valentine's enthusiast or staunch denier. Either way, we love any excuse to suggest gift ideas! Giving your partner, husband, wife, co-parent, 'conscious coupling', other half (or whatever you call them) a little book from your children is a great way to "do" Valentine's Day. Here's two (love-themed) ideas to get you going: Love Monster by Rachel Bright (3+) – Touching and heart-warming and much better than a box of heart-shaped choccies Love Always Everywhere by Sarah Massini (3+) – Uplifting, enjoyable, joyful and charming exploration of love in its many forms

We want to make finding truly enjoyable books for your kids as easy as possible. What happens when a beloved series comes to an end or a favourite author doesn't have a new title coming out for a while? Where do you turn for their next adventure? Our, If 'They Like, They'll Love' section is designed to help you put your finger on fantastic new titles for kids that will be right up their street. For instance: if they liked The Fault in Our Stars (14+), by John Green, they'll love All the Bright Places (12+) by Jennifer Niven – life-affirming, thought-provoking, lessons in life from a boy determined to die. Check out our If They Like, They'll Love category for more ideas. Below you'll find a wonderful reminder to 'OUR Class of 2014' just for you to browse in case you missed any. And that, book fans, is January at Lovereading4kids. We hope you find what you're looking for on the site and we'll be back in February with more of the same carefully selected titles for you… but different!
Tags: children's book reviews, Darkmouth, Eve Ainsworth, lovereading4kids, Purbeck Literary Festival, Seven Days, Shane Hegarty, The Earth is Singing, Vanessa Curtis