Mid April email update
Welcome to our mid-month round-up of what is new, exciting or noteworthy on Lovereading4kids this April. Your children can start reading books before they are published, join our reader review panel or just browse the site for dozens of hand-picked great reads…

Your chance to hear about some great books for your kids before they hit the shelves – some of which have already been reviewed by our Reader Review panel – just look out for the reader spectacles icon. If you want your child to be involved see below.
Out of the Mouths of Babes… Reader Review Panel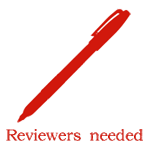 To complement our expert reviewers, such as Julia Eccleshare of the Guardian, we have amassed a glorious gaggle of kids and teenagers to give their independent and real views on the books that they put themselves forward to read and review.
This is the best way to get honest, topical views from kids at the 'coalface' and we hope a brilliant tool, along with our own expert opinion, for helping you choose new titles with your children. If you have a child who's keen to join our Lovereading4kids reader review panel then get in touch giving the name, age and gender of your child along with an address to post the review copy to.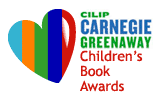 Voted for by children's librarians the Carnegie and Greenaway Medals are the UK's oldest and arguably most prestigious awards for writing and illustration for young people. Last year A Monster Calls by Patrick Ness set a precedent by winning BOTH medals! We are delighted to feature all of 2013's shortlisted books.
And while we're on the red carpet watch out for …

The Little Rebel Children's Book Award. With a shortlist of just four announced this month, these awards honour 'radical' fiction aimed at 0-12 year olds.
Our favourites are a picture book called Wild Child by Jeanne Willis and a novel for 8+ readers, The Terrible Thing That Happened to Barnaby Brocket by John Boyne (author of the The Boy in Striped Pyjamas).

The legend of King Arthur continues to fascinate both young and old and in Young Knights of the Round Table, Julia Golding tells a fast-paced, time-travelling fantasy adventure based on the legends of King Arthur that is cleverly relevant to contemporary life too.
We love it and some 9-11 year olds from our independent reader review panel loved it too.

New name same great, much-loved books for younger kids!
Our popular Picture Book Picnic section is now, for 2013, a celebratory 'Picture Book Party' and it's teeming with beautiful and engaging picture-books for you and your little ones to enjoy!
See some of our favourites on the shelves below…


Every now and then a writer comes along with a unique way of storytelling and when that happens we like to let you know about it. Meet Megan Rix, author of historical novels for kids, where events in history are given a unique perspective through animals. Based on true facts about the plight of them in London during the war, her novels are deeply moving and will strike a chord with animal lovers.
Her latest: Victory Dogs is out now, but don't miss her debut novel The Great Escape a gripping World War II tale of the survival of animals left behind in the Blitz.

Our Dyslexia-Friendly category has had a boost this month in celebration of the number one publisher of books for dyslexic readers, Barrington Stoke, who is 15 years old this year. The Interest age and the Reading age for each title is provided in order to make the perfect read that much easier to find. See the bookshelves below for some examples with lots more on the website.
Have your teens heard of Cassandra Clare, author of two passionate and powerful supernatural series' full of vampires, werewolves and shape-shifters? The first in The Mortal Instruments series, set in modern day New York, City of Bones has been made into a film due out in May – and there are 5 books in that series to get your teeth into (bad vampire joke). She has also penned a prequel trilogy, set in Victorian London called The Infernal Devices – and the final, Clockwork Princess, is out in paperback this month. See the book shelf below …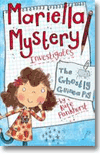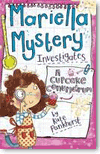 Finally news of a brand new series for 7+ girls from award winning author illustrator Kate Pankhurst. Called the Mariella Mysteries the first two, The Ghostly Guinea Pig and A Cupcake Conundrum are out now.
Wittily told in words and pictures the Mariella Mystery's heroine is a totally amazing nine year old detective who sets about solving mysteries by following clues in entertaining and action packed adventures.
No mystery is too complex for Mariella. Find out more about this brilliant new series today.
At Lovereading4kids we love authors most of all, as they create the brilliant children's books that we get to tell you all about. So, to help them share more of their thoughts with their readers we have built a uniquely useful new system that shows their latest Facebook posts and Tweets on their Lovereading4kids author and book pages.
But, we can only show the posts and tweets if we have the correct information. So, why not help any children's authors you know, or follow, by checking their author page on Lovereading4kids to see whether the Facebook posts and Tweets are appearing. If they are there are handy buttons to let the author know what is missing and what you can do about it – simples. N.B. All links are verified before being uploaded to the author pages.
Tags: children's books, lovereading4kids