Monday, February 18th, 2013
Welcome to our February mid-month update. Full of special features about books in a huge range of categories … Art, Poetry, Great Reads for Boys and Blue Peter to name a few. Read to find out more..Pre-Publication titles to start reading now

As always, we have an exciting selection of Pre-Publication exclusives to bring you this month, so you can read what's hot before it's released! And guess what? They feature handy reviews from our brilliant new Reader Review Panel to help you choose. Smashing!
One for 11+ readers not to miss is the pulse pounding sequel to Million Dollar Gift from Ian Somers, The Hidden Gift. Ross Bentley, a teenager with telekinetic powers discovers a whole new world of people with 'super powers' but not all of them use their skills for 'good'.
With the Easter holidays looming sunnily on the horizon, why not plan some time for art and artists and include a trip to a local art gallery perhaps? It's a great way to fire their imagination for painting and drawing. To help them get the most out of it we have some great 'How to' books for a variety of ages, and other lovely books that will 'help the whole family get into art' …
Two not to miss are How to talk to Children about Art and How to Talk to Children about Modern Art. They are books for grown-ups to share with their children and help to explain what to look for in a painting; with cleverly colour-coded text for three age ranges 5-7, 8-10 and 11+. They're so good an Art History student has just seen the books and wished her parents had used them with her when she was younger!
And don't miss our competition to win a copy of The Art Book for Children from Phaidon. We have 3 up for grabs.


From funny to poignant, poetry can really speak to us … at any age. Our section dedicated to verse for children has had a revamp this month and is teeming with great poetry books.
New this month (among others) are the hilarious collections: What do you Call a One-Eyed Dinosaur and What Happens When the Queen Burps.
Lovereading helps kids to…Well, love reading
We like to think that kids get inspired at very young ages to love books, so we wanted to share a few gems we have recently come across that we think can do just that.
First published in 1950 Ant and Bee are back! These delightful and much-loved characters are instantly recognisable to many parents and grandparents today. Ant and Bee teach children to read via word
recognition and encourage story sharing


with siblings and parents – Anthony Horowitz admits that these classics were the books that taught him how to read and we think it's high time they were re-discovered by a new generation of readers.
Also Rhyming picture stories are great for getting kids hooked into reading. Two favourites of ours this month are Tabitha Posy Was Ever So Nosy and Mrs MacCready Was Ever So Greedy both by by Julie Fulton.

In spite of the terrible pun, we are really proud of our section dedicated to age categorised great reads for young boys! Fresh for 2013, this category, packed with tales of derring do and stuff that boys love to read about, has had a revamp and features some cracking new titles. Click here to find out more…
What ever eReader you have we can get you the eBook format to match with a single click on Lovereading4kids. Go to any book page and just look at the 'Other Formats' box in the top right hand corner. See the shelf below for a few of our favourites and there are many, many more on the website.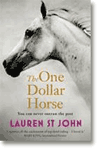 If you have child who lives and breathes horses and ponies then you simply can't miss our special category dedicated to stories inspired by our equine friends. We have lots of great stories and our favourite this month is The One Dollar Horse, out in paperback and eBook now, from Blue Peter prize-winner Lauren St John. It's a thrilling rags-to-riches story of one girl and her dream.
Bring WW2 to life for 7+ readers

Award winning Mick Manning has created two books, based on the real stories told to him, by his parents of their experiences in World War Two, that really bring the period to life for 7+ readers. Tail-End Charlie and Taff in the Waff are wonderfully innovative books full of illustrations of artifacts and documents of the time. A wonderfully dramatic and engaging introduction to its subject.
7 March 2013 will be a global celebration of children's books and among other things, it's a great opportunity to spend the £1 vouchers your kids will be given between now and then by their school to support your local book shops! There are eight titles from big name authors such as Tony Robinson, Shirley Hughes and Francesca Simon. Look out for the voucher and Click here to find your local book shop.
Linked to World Book Day is the Blue Peter Book Award – extra special as the winners are chosen by the TV shows viewers. The six books shortlisted will now be judged by more than 200 young Blue Peter viewers drawn from 10 schools across the UK. See all six books in our special category.
The winners will be announced on a special edition of Blue Peter dedicated to children's books on World Book Day Thursday 7 March 2013.

Mother's Day is just around the corner and the youngsters in your life will be racking their brains thinking of what to get you! Why not help them by suggesting one of these great gifts that you can share with them or check out the Mother's Day category on Lovereading and suggest something from there they can spoil you with!
So that wraps up February at Lovereading4Kids. Here's hoping for better weather round the corner and we'll see you in March with yet more great reads for children.