Friday, April 8th, 2016
This year, HarperCollins is republishing a whole host of timeless classics for a new generation of readers to enjoy! From the strict-but-fair Mary Poppins to the unforgettable story of Street Child that inspired Dr Bernardo to found his famous children's homes, we've got an esteemed list of beloved stories that we'd like to bring to a generation of younger readers to treasure and enjoy.
With this in mind, we're looking for loyal ambassadors of the above books to write in and tell us why you love that specific story and why it needs to be read by a new generation.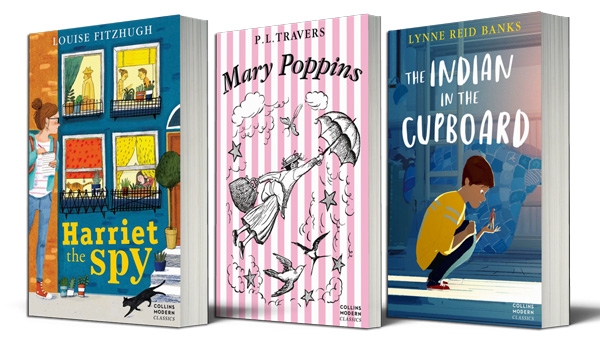 Simply send an email to kids.marketing@harpercollins.co.uk with the subject line 'Modern Classics' containing your name and address, by the 30 April for a chance to win an entire set of the above books. We have 3 sets to give away.  The winners will be chosen at random and the books will be delivered as they publish throughout 2016.
The Collins Modern Classics publishing in 2016 include the following:
Harriet the Spy by Louise Fitzhugh
The Tree that Sat Down by Beverley Nichols
The Indian in the Cupboard by Lynne Reid Banks
Mary Poppins by P. L. Travers
A Stitch In Time by Penelope Lively
The Rescuers by Margery Sharp
The Sword in the Stone by T H White
Kingdom by the Sea by Robert Westall
Journey to Jo'Burg by Beverley Naidoo
The Phantom Tollbooth by Norton Juster
Street Child by Berlie Doherty
Jennie by Paul Gallico
More coming in 2017
Good Luck