Thursday, January 10th, 2013
The great J.R.R. Tolkien would have been 121 years old this month and with the recent film release of the first part of The Hobbit, his famous tale of a large-footed unlikely hero, our only resolution is to show you what's new and exciting for your little Halflings this New Year. Happy 2013 from Lovereading4kids!
Pinch and a Punch…Books of the Month
Christmas may have gone, but our shelves are jostling and rejuvenated with great reads for kids of all ages and abilities: One of our hot tips (actually our reader-reviewers' hot tip) is:
Ketchup Clouds from Annabel Pitcher. One reviewer said 'Wow. Ketchup Clouds is without question one of the best books I have ever read. This is one of those books that you start to read, and three hours later look up from and realize the whole world looks different.' Visit the site to read more reader reviews.
Wild Thing! – Guest Editor, Matt Dickinson
He's one of only 5 British climbers to scale the North face of Everest, he's won awards for film-making in some of the most inhospitable places on Earth and he's the author of the amazing, high-octane and thought-provoking Mortal Chaos series. The latest title Speed Freaks is a January Book of The Month. We love this series – and given the feedback from our Lovereading4kids review panel we're not wrong. See some of their comments below:
Josh Travers (14) 'I can honestly say that anybody who has not read this book is truly missing out on one of the best fictional adventures of their lifetime.'
Ellen McTeague (11) 'This book is so clever and a very exciting read with short chapters'
Morgan Steigmann (13) 'This book is probably the most action-packed novel I have ever read'
For Matt, facing his most testing challenge to date, he's agreed to be our Guest Editor this month! Click here to find out more…
New Year New Talent – January Debuts
There is nothing better than discovering a brand new author with a fabulous debut, and we're kicking off the New Year with a glittering collection of first-footers: Special mention goes to Boonie, Sorrowline and Into That Forest which have garnered some amazing reviews from our Lovereading4kids reader review panel.
| | | |
| --- | --- | --- |
| (12+) Gripping, vivid dystopian thrill ride from an imagination that knows no bounds. | (11+) Refreshingly original, mind-blowing time-travel novel like no other. | (11+) Haunting, captivating and extraordinary. It reads like a true story. |
Other new debuts this month are:
Series Stuff! – January Series' of the Month…
To kick off the New Year, we haven't just got one Series of the Month, we've a whole series of them!…. Well only two actually, but they're real humdingers!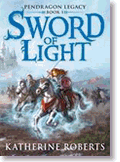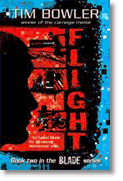 Pendragon Legacy by Katherine Roberts (10+). Page-turning, sword-brandishing,
be-witching and be-wizarding Camelot adventure series. Two books so far and one on the way… and find out what our Lovereading4kids reviewers thought of the books.
Blade by Tim Bowler (14+) Startlingly original and as sharp as its hero's name suggests, this four book series is an absolute must for teen lads and will bring hours of quiet to your home… that is, until they run downstairs to tell you all about it.
Dark, Dangerous Romantic Reads for Teens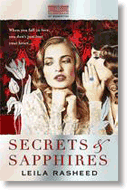 First Secrets and Sapphires (At Somerton), the sweeping new period drama from Leila Rasheed. Think Downton Abbey meets Gossip Girl.
Also an evocative reimagining of Wuthering Heights, with a extra magic twist called Black Spring by Alison Croggon.
And don't miss the book of the film Beautiful Creatures by Kami Garcia and Margaret Stohl A teen romance, with a twist of supernatural danger and and you can win a £25 Odeon cinema voucher!
Read them in secret…go on…treat yourself!
The Costa Winning – Costa Book Prize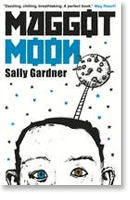 The good people at Costa give 5 lucky authors a huge (coffee) break at this time every year with the highly sought after Costa Book Prize. The winner of the Children's award has just been announced; it was also our personal favourite as we mentioned last month.
Maggot Moon by Sally Gardner (14+) A unique dystopian tale of friendship, moon-landings and the truth about dyslexia. Our young reviewers loved it too, find out more today.
Fabbiha Choudhury. 'I absolutely loved it and cannot commend it more highly. Absolutely superb!' Josh Travers. 'This totally original story is brilliant from beginning to end and each gripping chapter urges you to keep reading'

Don't forget our special category that is chock-full of dyslexia friendly books. Our book-range from those boffins at Barrington Stoke are categorised by Interest Age and Reading Age so that you and your kids can find the perfect, confidence-inspiring reads for them, whatever their ability. For instance:
My Name is O by Sam Enthoven. With an 'Interest Age' of 11+ and a 'Reading Age' of 8+, this is an accessible and thrilling fantasy-tale of courage, choice and individuality in a world of control and expectation.
Other favourites of 2012 are in the shelf below…
Scroll down for more recommendations in the age ranges you have told us you are interested in.