Monday, February 6th, 2012
Yes, the days are short and it's all a bit dull and cold but let us add some excitement and distraction, especially with school half-terms coming up, and the Lovereading4kids bookshelf full of new and brilliant books. Read on to find more.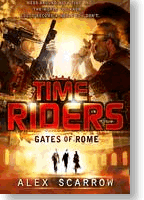 Two brothers – both authors brilliant at telling great stories that really pack a punch in terms of action and
adventure. Alex Scarrow's Time Riders series follows the hurtling time-travel adventures of three kids who have cheated death in different decades. Brother Simon's Gladiator series follows the fortunes of a young Roman slave forced to fight in gladiatorial combat. All their titles are reviewed on the website, with free extracts so you can 'try before you buy'! Fans of Percy Jackson and of Harry Potter will devour them, but which are you going to try first?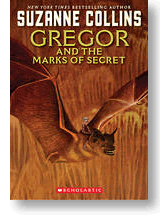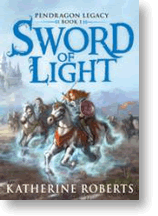 There's a wonderful array of page-turners for the Toddler to the Teen this month. For readers aged 9+ our MEGA book of the month is Gregor and the Marks of Secret by Suzanne Collins, the author of the blockbusting Hunger Games – a fantasy adventure for young Gregor and his talkative little sister Boots, in their perilous bid to save the Underland.
And while we're talking MEGA books don't miss Sword of Light by Katherine Roberts (11+). Book One of The Pendragon Legacy, it is an Arthurian adventure filled with romance, danger and courage… and a female hero, Rhianna, who just happens to be King Arthur's daughter together with her best friend, Elphin, a Prince of Avalon!
There is Nothing Like a Dame! – Guest Editor Dame Jacqueline Wilson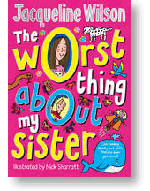 We are HUGELY honoured and jumping up and down with excitement to have the multi award-winning Jacqueline Wilson as our Guest Editor this month. Creator of the infamous Tracy Beaker, Jacqueline is not only a Dame of the Realm and an OBE but a former Children's Laureate to boot! Not only has she agreed to share some of her favourites with us, but her book, The Worst Thing about my Sister, a brilliant tale of the bond of sisterhood, is a Book of the Month right here! Click for more.
Four great first novels grabbed us this month:
| | |
| --- | --- |
| | 11+ Something a bit special the first in a new fantasy magic series packed with excitement, thrills perfect for fans of Harry Potter and Percy Jackson.. |

| | |
| --- | --- |
| | 11+ Laugh-out-Loud cringe-worthy recollections of the teenage son of nudist parents who are ready to go public. This is one of our favourites! |

| | |
| --- | --- |
| | 14+ Gripping, terrifying, and heartening post Apocalyptic father and daughter survival tale. |

| | |
| --- | --- |
| | 14+ A hugely gripping, roller-coaster of a story of family secrets, relationships and deceit – Jodi Picoult for teens! |
Winning is Believing! – Lovereading Competitions
| | |
| --- | --- |
| | 7+ 5th in the series and it has taken the world by storm, we are offering the chance to win one of 3 FULL SETS of Wimpy Kids books. |

| | |
| --- | --- |
| | 3+ & 5+ by Rachel Bright – We have 5 signed copies to giveaway. It's not easy being an ugly monster in Cutesville! Give him a good home … |

| | |
| --- | --- |
| | 12+ Suzanne Collins. The movie is due for release 23 March, and we have the books and film companion book to giveaway. Not read this brilliant trilogy yet… then get clicking now. |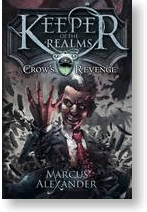 Finally news of a great fantasy book that has been picked up by Puffin after it became a self publishing sensation. Keeper of the Realms, think Lemony Snicket meets The Wizard of Oz! Charlie Keeper has been forced from her home by a bloodthirsty and terrifying stranger. But in escaping she discovers her house holds the gateway to the Realm of Bellania – a place of myth, magic …and an evil Lord with a very bad attitude. Now its fate rests squarely upon Charlie's shoulders. Game on!