Thursday, January 20th, 2011

No more snow, no more school holidays – but still plenty of brilliant books for your children, with free Opening Extracts to try on your kids before you buy them. In addition to Lovereading's offer of 25% off the RRP we now have our own Book Price Comparison Engine that shows you the price of the book on up to a dozen other book sites as well …. Simples!…
January Promotions and Special Features not to miss…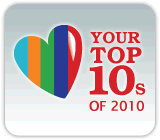 What good is a new year without a look back at the last one? We have selected the 10 titles, from each age range, that have been the most popular in 2010. As ever there are some 'usual suspects' in terms of authors but a lot of fresh surprises – especially your love of trying new authors (which is good because we love discovering them).
Visit our special section today to see the full lists and we hope you enjoy catching up on any gems you might have missed.
Happy reading and look out for more new books and exciting features in February.